This is a German book of Wolfgang Fuchs
Title:
James Dean, Spuren eines giganten
1986
ISBN: 3-8228-0034-1
(with a free poster!)



Text at the back:
There is no actor, who gave us (especially the young people), with only 3 movies,
the perfect idea of the living in the fifties!
He only had a short life, but his images are still here!
The tracks of a giant!



Book 3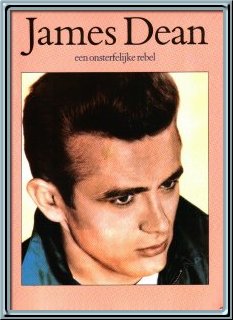 A Dutch book of John Howlett (translated by Ruth Visser)
Title:
James Dean, een onsterfelijke rebel
1986
ISBN: 90-6213-862-4



Text at the back:
James Dean was only 24 years old when he had a deadly car-accident (in his silver-colored Porche) on the highway 99 .
It was happened in 1955 and at that moment he had only made three movies:
"East of Eden", "Rebel Without A Cause" and "Giant", but those movies made him allready a legend. His early dead -which a lot of people could not believe- caused an unknown hysterie.
Now, more than 30 years later, James Dean is still an idol. In James Dean -een onsterfelijke rebel- you can read his short, but movie life. James Howlett spoke with actors and directors, who worked with Dean and the people who knew him. The result is an exclusive biography, a study behind the myth which survived allready 2 centuries and did not loose his glamour and mystics. James Dean said: "If a man can survive the gap between life and death, and he still lives on after his death, he probably was a big man!"
Dean was that kind of man!
Book 4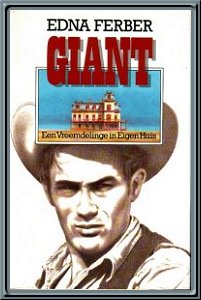 A reading book written by Edna Ferber
(translated by H.C.E de Wit- Boonacker)
Title:
Giant
-Een Vreemdelinge in Eigen Huis-
1986
ISBN: 90 225 0622 3
Text at the back:
Leslie Benedict (young wife of the rich man Bick Benedict) comes to the big Reata Ranch in Texas. In the next years she learns a lot about this huge land and his proud citizens.
In the beginning she is surprised by the big amount of rooms in one house, the sky-divers, all the acres ground, herds,
lots of Mexican workers and the powerful real men,
owners of all those wealth.
Leslie is not very welcomed by the sister of Bick, the strange Luz, who does not like to share the householding.
She also get to know Jett Rink, a poor and embittered young man, who deeply fell in love with her.
When there is found some oil on his piece of ground, Rink is suddenly a rich man! Now he realy doesn't know how to cope with Leslie, his money and himself.
Leslie learns to get to know the Mexican people. She learns to know their obsessions about being number one
(in their dreams and in their lives)
Leslie keeps her strenght in her greatest love for Bick.
After this novel the movie 'Giant' is made with the actors:
James Dean, Rock Hudson and Elizabeth Taylor.


That's it!
Browse the rest of our site too, by clicking on the buttons below!
Bye!
Crista